About Karakol
Dungan mosque
There is a Dungan (Chinese) mosque in Karakol built by
a Chinese architect and 20 artisans between 1907 and 1910. It was built entirely of wood, without a single nail. The Dungans first arrived in Karakol, as refugees, in 1877 and created a small community.
The Mosque is set into its own territory and the distinctive decoration (it is painted in bright colors – red, green and yellow – and bears reliefs depicting various types of flora and mythical animals such as dragons and the phoenix) that give it an original character.
More information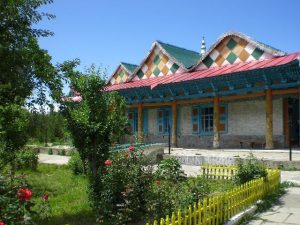 Holy Trinity Cathedral
The Holy Trinity Cathedral is a fine example of a Russian Orthodox Church, which served as a dance hall under the Soviets, and a school during the Second World War. Built on the site of an earlier church, erected in 1876, the current building was constructed between 1890-5. During the construction a yurt served as a church for local population.
The building consists of wooden walls on a stone foundation, and it is highly decorative. The five onion domes, which used to adorn it, were destroyed in the Soviet period. Inside are a number of icons – including some saved from Svetly Myz, and a copy of one of Saint Troitzy by Andrei Rublev (who lived in the 13th Century). It has now been returned to active service as a church and some reconstruction was begun in 1961. It is now being renovated anew.
More information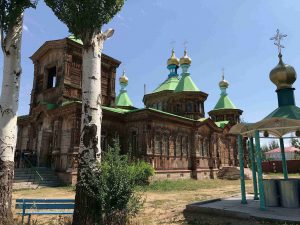 Przewalski museum
The Przewalski museum is 12 km north of Karakol.
Nikolay Mikhailovich Przhevalsky is one of the first Russian Scientist-Geographer who started studying in details the geography, flora and fauna of the Central Asian countries. Beginning from 1870, he arranged 4 large expeditions to Mongolia, China and the Tibet.
During his expeditions he revealed the exact directions of the mountain ranges and borders of the Tibet Mountains. He described the nature, relief, climate, flora and fauna in the territories under his study and discovered over 200 plant species. Przhevalsky also collected an enormous zoological collection which comprised several thousand of species of plant, animals, birds, fishes and insects.
More information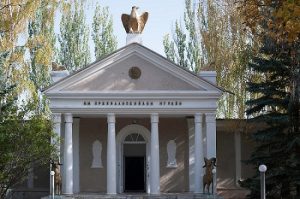 Central-Azia travel[/caption]
History Museum
The history museum, sponsored by the Canadian gold mine concern Kumtor, has a collection of  petroglyph from the Issyk-Kul area and bronze artifacts. It also shows a short history of the geology and minerals found in the area.
More information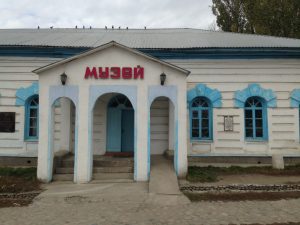 Big bazaar
A lot of people go to the big baazar, Aktilek market, to do their shopping, all kind of products are soldhere, fruit, clothes, housekeeping stuff and construction material. If you need anything, start searching on this bazaar.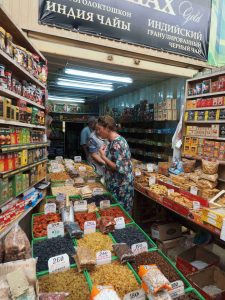 Animal bazaar
One of Kyrgyzstan biggest animal markets, takes place every Sunday morning in Karakol. Locals from small village are coming early in the morning to buy or sell animals. The animals arrives in trucks, but also in the back of a lada. The people are trading about the prices from goats, sheeps, cows and horses. You can also see how they attach horse shoes to the horses. There also some market stalls with clothes and equiptment for horses, like handmade saddles.
More information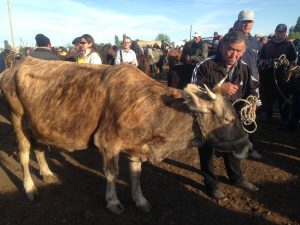 Ski base Karakol
The ski base Karakol is well known to the skiers and snowboarders from the former USSR. The is about 20 minutes from the center. The area has wooded areas as well as free zones where you can ski.
More information